June 22, 2010
Oly Cert - A retrospective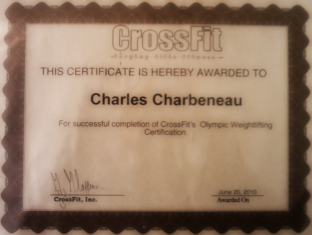 This was a dense weekend to put it mildly. My body was sore by Saturday night and my brain reached the full tipping point by 11:00 am Sunday morning. I could try and recap everything we did; the Burgener warm-up, both lifts, all of the skill transfer exercises for each and the plentitude of coaching cues…but I won't. There's a cert for that, and if you want to really understand the snatch and the clean/jerk, the only way to do it is to learn it as if you had to teach it.
What I will do is thank everyone appropriately. First, a huge thank you to Kate (and Paul) and The Athlete Lab for being such fine hosts. The little things were all taken care of, which helped to make the big things go smoothly. I felt welcome and included, and their passion for CrossFit was evident in the beauty of their space and their attention to detail. They even provided a great list of places to find food in the area for those of us from out of town.
Next, thanks to all the attendees. The cert wouldn't have been a CrossFit cert without the great people from our region, with athletes and trainers from as far away as Sioux Falls, SD making the trip to learn from the best. Everyone that I had a chance to talk to and train with was helpful and a testament to pursuing virtuosity. It was also great to meet more CrossFit athletes from closer to home, and I hope to spend a little more time with them in the future. My CrossFit home will always be CrossFitMN, but one thing that I have learned from trying to train Aikido, Jodo and CrossFit on the road (both while in Japan and back here in the states as a consultant) is that visiting other schools expands your horizons, offers new challenges and allows you to meet some of the best people in the world; and who wouldn't want to do that?
Next up, the coaches. A huge "Thank You" to all of them. They were all top notch, and their passion was evident from the moment we started with the introductions.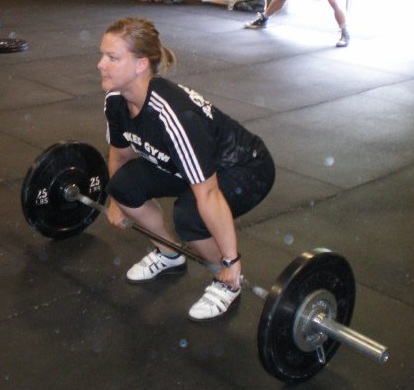 Amie Taylor isn't just a CrossFitter and Oly Cert wise-woman, she's also a 9th grade algebra teacher, and her passion for CrossFit and education collided with the creation of CrossFit Algebra. Truly inspiring, and something that any educator should read.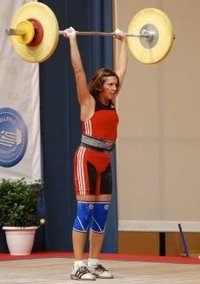 Debbie Hudson is a competitive Olympic Lifter from Oakland County, MI (my home town) and is opening a CrossFit affiliate in the YMCA near Oakland University (where I will now need to visit while I'm home to get a tune up for my clean). She was always right there with succinct advice and positive feedback; and Lord knows, I needed some of both this weekend. If you are interested in seeing what this CrossFit thing is all about and you are in the Oakland County area, I highly suggest you look her up.
Cody Burgener, CrossFit Sioux Falls coach and son of the coach, Mike Burgener, was an interesting reflection of his father. He has as critical an eye as does Coach, but a completely different coaching style. Though different, he was as direct and specific and each one of his cues moved me closer to success. He also hit a 315# PR Clean and Jerk over lunch on Sunday while wearing street shoes, which is nothing to be scoffed at.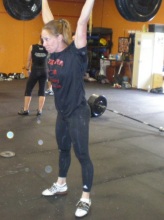 Erin was a phenomenal coach and offered me several words of wisdom that I will keep with me as I start to coach others in these lifts. My favorite moment of hers for the weekend, though, was actually at dinner on Saturday night. Someone mentioned that the plate of Cody's Chili cheese fries she was amount to NOM from might not be Paleo, and she responded "Do I look like a person that eats Paleo?" I looked at her and and said "Um, yes, Erin, you do." She actually looked down at herself briefly and said, "Yeah, I guess I do...", and proceeded to help herself.
I should also mention that she and Amie did "Bear" for a workout on Sunday, and she maxed at 145#, which is staggering.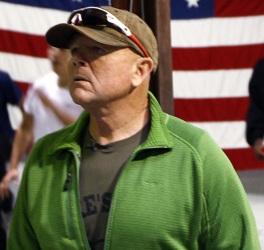 Of course, the cert wouldn't be complete without Coach B from Mike's Gym. Coach was everything I expected and more. He was direct, stated his expectations clearly and concisely and there was never any doubt that he was going to push us toward not just lifting with excellence, but with teaching it as well. From the intro to the wrap up, everything was organized, well thought out, excellently presented and worth every minute of agony. As my good friend Kevin Oie put it, "Best. Weekend. Ever." And I wholeheartedly agree. Coach cares about Olympic Lifting. It's his passion, and that passion bleeds through with every contagious word.
Before the start of the weekend, I knew that I loved CrossFit and thought that I wanted to be good at the lifts because I didn't see MetCon excellence in my immediate future, but now, I know it. I practiced skill transfers with a broom today while sweeping and stole ten minutes to head out to the garage to go through the warm up. After the kids are in bed tonight, I have a Clean workout and a Kettlebell, pull up sit up cookie to attend to.
Thank you, Coach, for your time, your passion, your knowledge, the burpees and the Jodi. What a package deal. Please come back to Minnesota soon… and next time, bring the Harley. When there aren't tornadoes, it's quite the rider's paradise.
Posted by Chuck Charbeneau at June 22, 2010 2:29 PM